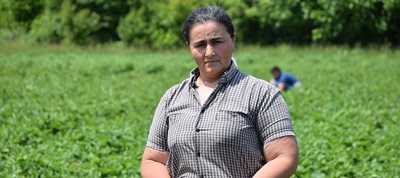 Nanuli Eqvtimishvili
Nanuli Eqvtimishvili is our customer living in the village of Matani in Akhmeta region. With our help, she cultivated strawberries using drip irrigation system.
learn more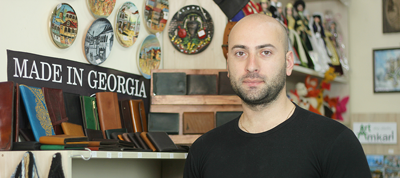 David Chitinashvili
David Chitinashvili is our customer living in Tbilisi. His business involves making bags, purses and similar products from leather materials and selling them. To develop his business David bought leather materials with our help.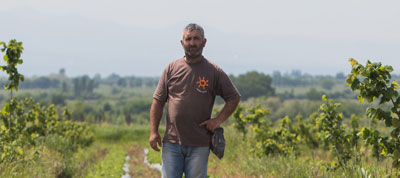 Zviad Akopashvili
Zviad Akopashvili is our customer living in the village of Chikaani in Kvareli region. With our help, he cultivated strawberries using drip irrigation system.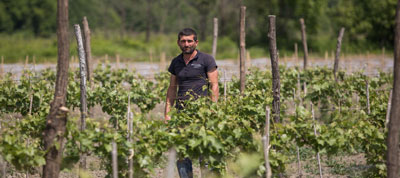 Vitali Jeranishvili
Vitali Jeranishvili is our customer living in the village of Gavazi in Kvareli region. With our help, he cultivated the vineyard of Saperavi and Rkatsiteli grape varieties.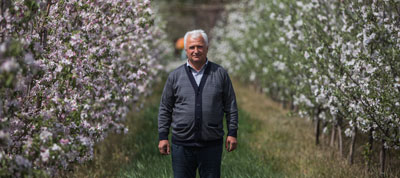 Nugzar Papunashvili
Nugzar Papunashvili is our customer living in the village of Shindisi in Gori region. He owns nursery and breeds different varieties of fruits. He produces large amount of apple and other cultures, supplying farmers across Georgia.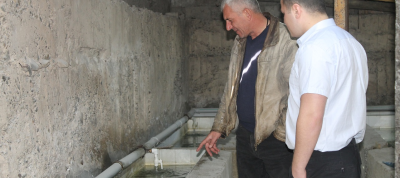 Kakhaber Tsikarashvili
Kakhaber Tsikarashvili
resides in the village of Bebnisi, Kareli Region. He has been one our most loyal clients for many years. His business includes poultry farming, cattle breeding and fishery. He first came to our company upon a friend's recommendation, who has also been our client for many years. Kakhaber needed a loan to stock up his supplies. After several successful repayments, he applied for another loan to finance the trout breeding. With
GC loan
Kakhaber made several successful investments and as a result expanded his business significantly.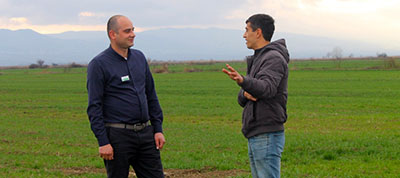 Mamuka Aladashvili
Mamuka Aladashvili is one GC's successful clients. He mainly grows wheat and bran and also has a chicken farm. Mr. Aladashvili learned about GC from another successful GC client David Begiashvili who is also engaged in agro farming. The lender successfully completed three stages of financing. For the first time loan he had a small scale agro business but expanded his business with GC loan. In addition, he acquired 1 hectare of vineyard where he cultivates Rkatsiteli sort of grapes.

Zaza Mghebrishvili
Mr. Zaza Mghebrishvili has been GC client for many years. He had loans from other money lending institutions when he applied for the agro loan at Microfinance organization Georgian Credit several years ago. We offered him a repayment schedule tailored to his income and needs.
Mr. Mghebrishvili cultivates bran, wheat, sunflower and has vineyard which produces Rkatsiteli. He also has pigeon and livestock. With GC loan, the client purchased land and started cultivating new cultures e.g. garlic. After successful repayment, he applied for the loan again. With this new loan he built a farm and added addiotnal livestock. Before that, he used to rent the property for the pigeon.
As a result of successful cooperation with Microfinance organization Georgian Credit Mr. Mgebrishvili expanded his business.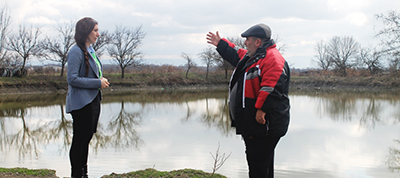 Zviad Chkhitunidze
Mr. Zviad Chkhitunidze lives in CHiauri village of Lagodekhi region. His main source of income is agro farming. He has arable land and farms for pigeon, livestock and sheep. On his pasture land he has 3 lakes. Zviad works the farm land with his own equipment. He possesses a tractor and other machines. He cultivates sunflower, bran, wheat. He partially uses his harvest to feed the livestock and fish. He also possesses a greenhouse.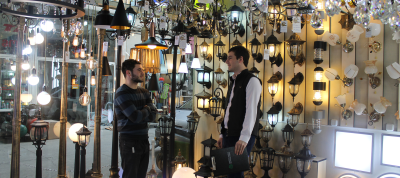 Vakhtang Buava
Vakhtang Buava's business is shops of the lamps (chandeliers). At first, the borrower found out about the organization from the advertisement, expressed interest and applied to business loans. With GC loan, the borrower imported goods from China and expanded existing business. After few successful payments, he applied for new loan and opened one more shop of the chandeliers. Mr. Vakhtang is very satisfied with the GC services provided. "I will happy to continue our successful cooperation in the future, because with your help I have been able to expand my business". says Vakhtang Buava.